Making Godly Choices
Suitable for Church Groups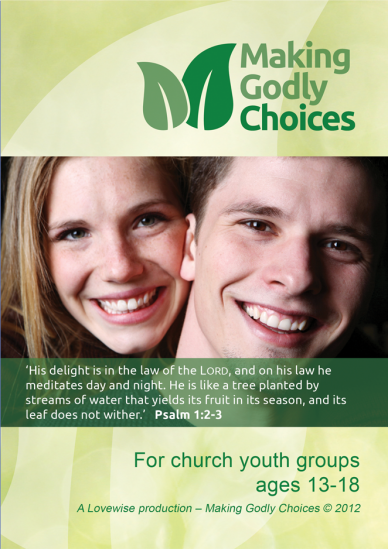 £5 (FREE UK DELIVERY)
Resource Type: PowerPoint
Release Date: January 2012
Version: 2.0
Making Godly Choices is a presentation designed for Christian young people. It aims to help them understand what the Bible says about relationships and includes practical advice on "going out".
The Details
The seven sessions, each lasting about 30 minutes, can be used individually or as a series. The sessions consist of PowerPoint slides with a suggested script interspersed with four short video clips of personal testimonies and a clip of the exchange of marriage vows. Most sessions include details of one or more icebreaker illustrative games.
The Contents
Topics include: the design and purpose of marriage, the purpose of sexual intimacy, the Seventh Commandment, what is going out?, practical advice on how to 'go out' in a God- honouring way, some common temptations to sexual sin, forgiveness and a new start.
Session Titles
Being wise about relationships
The promises of marriage
The design and purpose of marriage
Sexual intimacy
Temptation and what to do about it - part 1
Temptation and what to do about it - part 2
Marriage: A picture of Christ's relationship with his people
---
Resource Information:
Age Range: Age: 13+
Duration: Duration: 30-45 mins (for each session)
Audience: Church youth groups
---
Making Godly Choices - Review
Making Godly Choices is a magnificent resource. Our young people have been greatly blessed with the way it brings together solid biblical truth, practical guidance and real life video testimonies. The material is easy to work with for leaders as well as being relevant and challenging for young people
- Minister