growing up...growing wise @ home
Suitable for Home Use
Suitable for Church Groups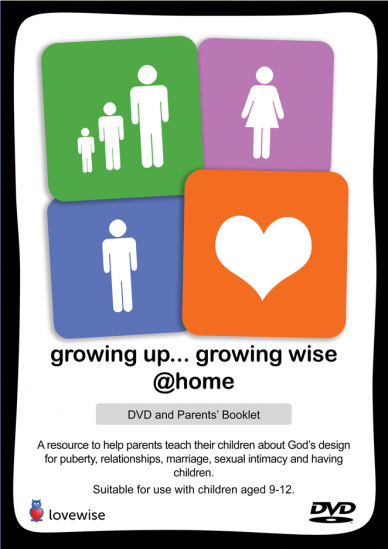 £10 (FREE UK DELIVERY)
Resource Type: DVD and parents resource book
Release Date: 2013
Version: 3.0
The Details
growing up...growing wise @home is a DVD designed for parents to use at home with their own children. The DVD contains four visual presentations to work through on a DVD player or computer with your child. Each presentation includes a series of still images with pictures, facts and diagrams to help your child understand the topic. The accompanying booklet contains detailed information and guidance to prepare parents to talk through the visual presentation on the DVD with their child.


The Contents
This resource discusses what puberty is, why it happens and the physical and emotional changes that take place in both boys and girls during puberty and how to deal with them. It teaches about love, going out, marriage and how a baby develops from conception to birth; it also covers why it is important to keep sexual intimacy for marriage.

Session Titles
Introducing Puberty
Puberty & Girls
Puberty & Boys
Love & Marriage
---
Resource Information:
Age Range: 9-12 years
Duration: 4 x 30-45 mins sessions
Key Topics: Puberty, physical and emotional changes, going out, love, marriage, sexual intimacy, conception and birth
Audience: Parents with their children
---
growing up...growing wise @ home - Review
I was a bit scared but I was amazed at how easy it was to go through with my daughter. After we had gone through the presentation, I felt that we were closer together and that she would be more likely to talk to me about anything that was worrying her.
- A Christian mother