Growing up...Growing wise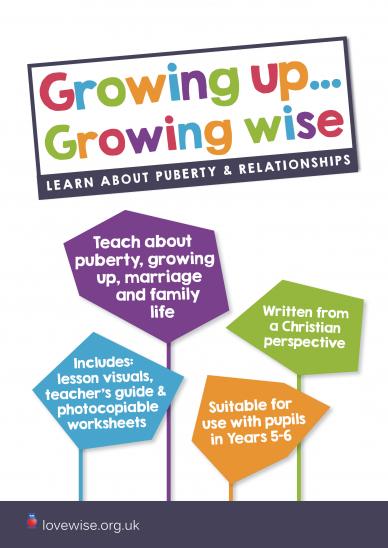 £30 (FREE UK DELIVERY)
Resource Type: CD containing PowerPoint presentation plus teacher's resource book
"Growing up…Growing wise" is designed to teach children about the nature and purpose of the changes of puberty, to help them deal with these changes in a practical way and to encourage them to make wise decisions as they develop and mature. The lessons discuss relationships and marriage, and teach about conception and birth in an age-appropriate way.
The material is divided into three lessons suitable for use with Year 5-6 pupils. The resource is written from a Christian perspective with input from parents, teachers and health professionals.
The resource includes:
- slides with information, diagrams, pictures & video clips
- detailed teacher's guide with lesson plans
- differentiated worksheets
- parents' evening slide show and sample letter
---
Resource Information:
Age Range: School Years 5 and 6
Duration: 3 x 40 minute lessons
Key Topics: The changes of puberty, relationships, marriage, sexual intimacy, having children
Release Date: Updated 2016
Audience: Primary school Years 5 and 6
---
Growing up...Growing wise - Review
"I liked the lessons because they taught us things but in a non-embarrassing way...I learnt a lot about my body that I didn't know already and so I am prepared for my future...it helped me to understand puberty and to realise how important it is."
- Year 6 Pupils, Hampshire, Spring 2017