Staying Pure Online
Suitable for Home Use
Suitable for Church Groups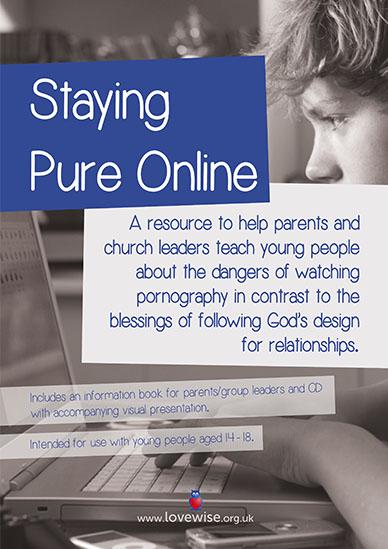 £10 (FREE UK DELIVERY)
Resource Type: CD with information booklet
Release Date: March 2015
Though Pornography has always been around, never before has there been so much or such extreme pornography available to young people as in today's culture. This presentation has been written to help parents and church leaders warn young people about the dangers of pornographic material and to show how following God's design for relationships will bring blessing to their lives.
The Details:
The resource consists of a booklet, with information for a parent or group leader, and a CD which contains a visual presentation. The booklet is intended to inform and equip parents and group leaders to talk to young people about this topic. The visuals on the CD are intended to be used with the group or young person to help them understand the issues and to help the leader or parent cover the topic in a structured and comprehensive way.
The Contents:
What is pornography?

Why is pornography wrong?

The dangers of pornography

Pornography damages our relationship with God

Pornography damages our relationships with others

Pornography damages marriage

Pornography damages ourselves

Pornography damages other people

Avoiding Pornography

If you have made mistakes
---
Resource Information:
Age Range: 14 years and above
Duration: 45-60 mins depending on interaction
---
Staying Pure Online - Review
I plan to use the material in our fellowship and highly recommend it. In view of the plague of pornography that infests the world today, and in view of the beauty of holiness, this aid that addresses sexual purity so biblically, clearly and helpfully is thoroughly recommended.
- Roy Summers, Evangelical Times, September 2015